We offer three types of evaluations at VOICE, LLC AAC CENTER.  Our primary goal is to provide the best match between potential and current device users and speech generating devices (SGDs).  That can only be determined through a comprehensive, evidence based evaluation process.  Ongoing consultation, training, user and care giver support groups and treatment services are also offered through VOICE, LLC AAC CENTER.  Please see links to those pages.
In addition to formal evaluations, we also offer speech generating device try outs and will assist teams and potential users to look at a variety of types of SGDs.  See Try Outs below
The first type of evaluation is an initial evaluation to determine whether an individual would be a candidate for a longer term trial of a Speech Generating Device (SGD).  If the individual is not a candidate for a trial of an SGD, we will assess low and light technology solutions and make recommendations.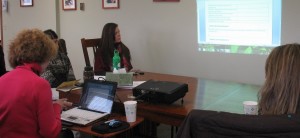 The second type of evaluation is a longer term trial of one month duration using a specific SGD that was determined to be the best match for the user during the initial evaluation.  Month long trials are required by Vermont Medicaid.
Comprehensive evaluation for school aged device users
The third type of evaluation we offer is comprehensive evaluation for school aged device users.  This type of evaluation is limited to AAC users that we are already consulting to.
Try Outs
If you have are an SLP who is helping a team determine which device will be the best match for a particular user and you are intending to run your own SGD trial, we offer try out services at a minimum of one hour duration.
What Speech Generating Devices, mounting systems, switches and software are available at VOICE, LLC AAC Center? 
We have a wide range of light and high technology speech generating devices (SGDs) and related equipment available for trial at VOICE, LLC AAC Center.  We no longer list specific equipment because the technology changes so frequently.  Our equipment includes dedicated speech generating devices from all major SGD vendors as well as iPads and other tablets with communication applications an related hardware solutions.
Please contact us for more complete descriptions of all of these services and about our fee structure for all evaluations.