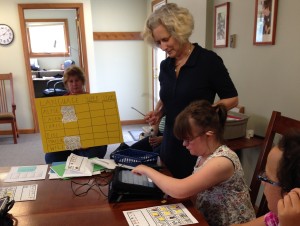 Everyone deserves to be able to communicate as independently and effectively as possible, with everyone and everywhere they go.  People with limited or no natural speech are candidates for Augmentative and Alternative Communication  (AAC). 
What is Augmentative and Alternative Communication (AAC)?
The purpose of AAC is to supplement natural gesture, facial expression, body language, sign language, and speech when these means are not functional.
How do we provide effective means to communicate?
Through comprehensive clinical evaluations that match AAC low technology and/or high technology speech generating device systems with a potential user's skills and needs.  We also provide ongoing support via training and consultation. 
Who is licensed in the State of Vermont to provide Augmentative and Alternative Communication evaluations, consultation and trainings?
Speech and Language Pathologists (SLPs) holding a current license in the State of Vermont.  All SLPs working at VOICE, LLC AAC Center specialize in AAC.  See About Us.